Regular price
Sale price
$35.00
Unit price
per
Sale
Sold out
Immerse yourself in the flavorful universe of Stiiizy Edibles, available at Seaweed Delivery in San Diego. As a verified retailer, we guarantee authentic Stiiizy products, with prices that include all taxes for a seamless shopping experience.
Stiiizy's premium line of edibles features mouthwatering flavors designed to delight your tastebuds and elevate your senses. Each piece is infused with cannabis of the highest quality, providing a robust experience that is both pleasurable and effective.
Choose from our diverse range that includes:
Blue Raspberry Blast (Indica): A sensory delight, these edibles offer a delightful rush of refreshing blue raspberry flavor. With an indica-based formulation, they are ideal for a relaxed, calming experience.

Caribbean Breeze (Sativa): Escape to a tropical paradise with the sweet and tangy taste of Caribbean Breeze. Sativa-dominant, these treats provide an energetic, uplifting high that's perfect for daytime use.

Watermelon (Hybrid): Enjoy the refreshing taste of summer with the classic watermelon flavor. This balanced hybrid blend offers a harmonious mix of relaxation and invigoration.

Sour Apple (Hybrid): Tangy and invigorating, the sour apple flavor provides a unique, thrilling twist. As a hybrid, this blend presents a balanced effect, suitable for any time of the day.
Each pack contains 100mg of THC, divided into 10 pieces of 10mg each. This allows for precise dosing, ensuring an optimal experience for both newcomers and experienced users alike. Fast-acting and delicious, Stiiizy Edibles provide a convenient, discreet way to enjoy cannabis, whether you're at home or on the go.
View full details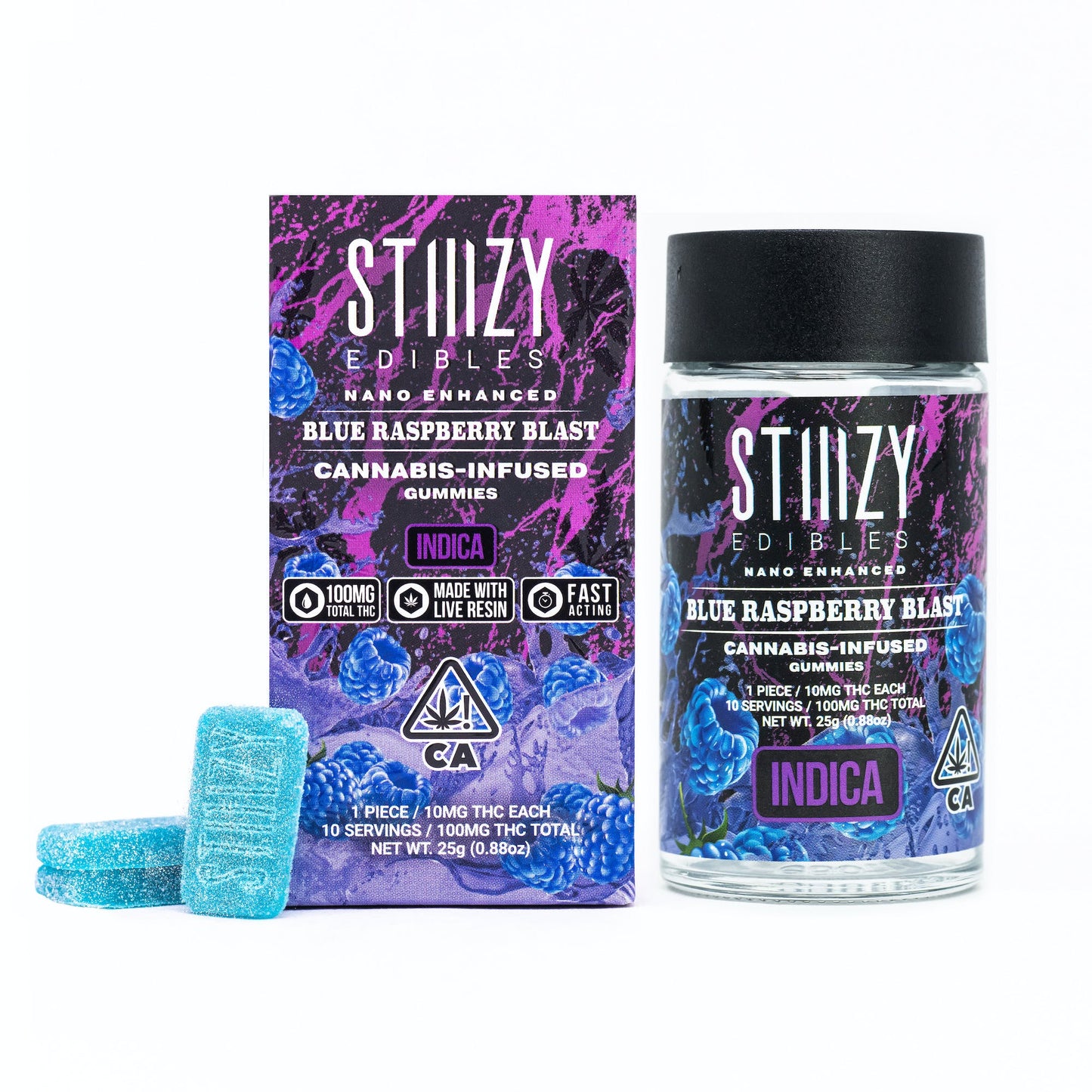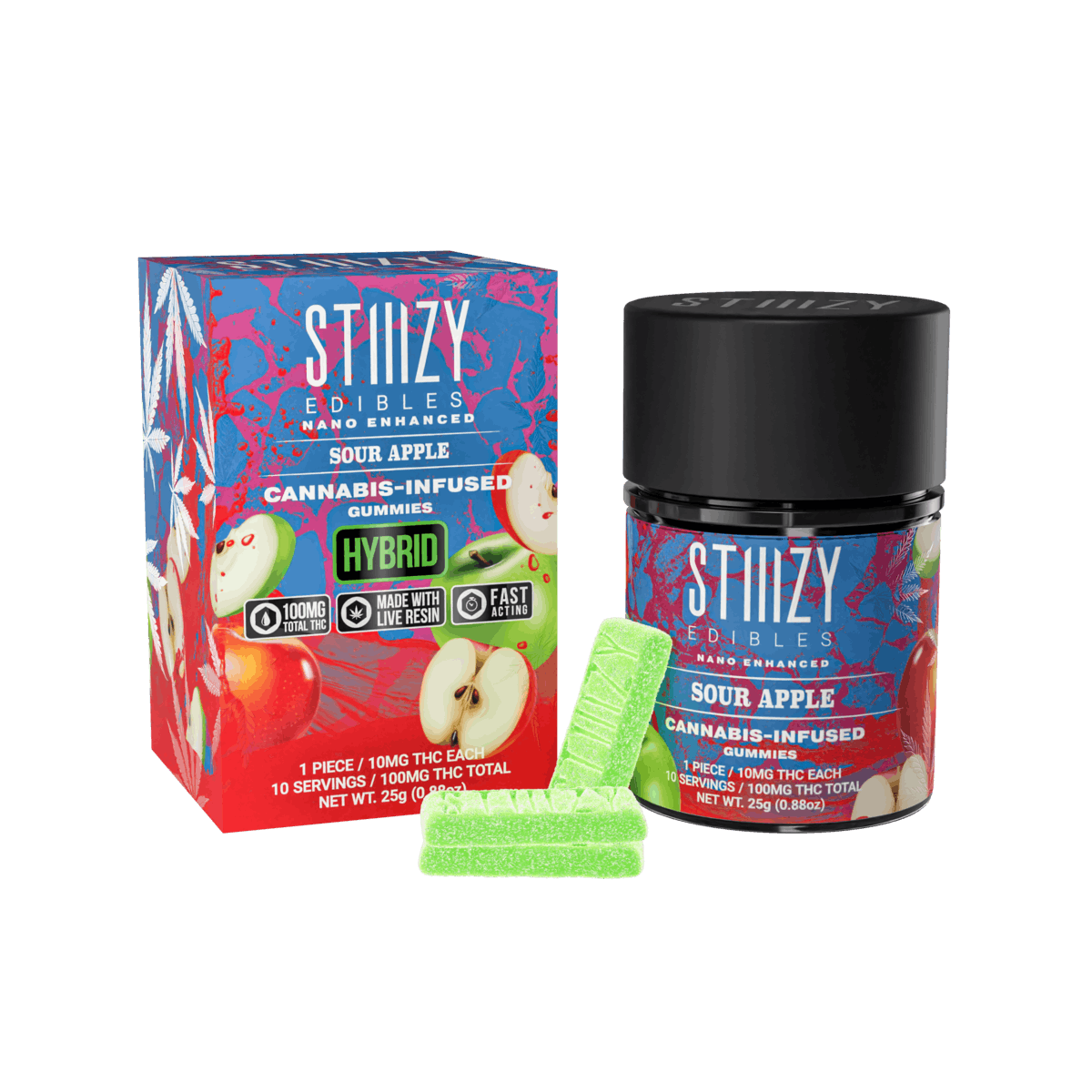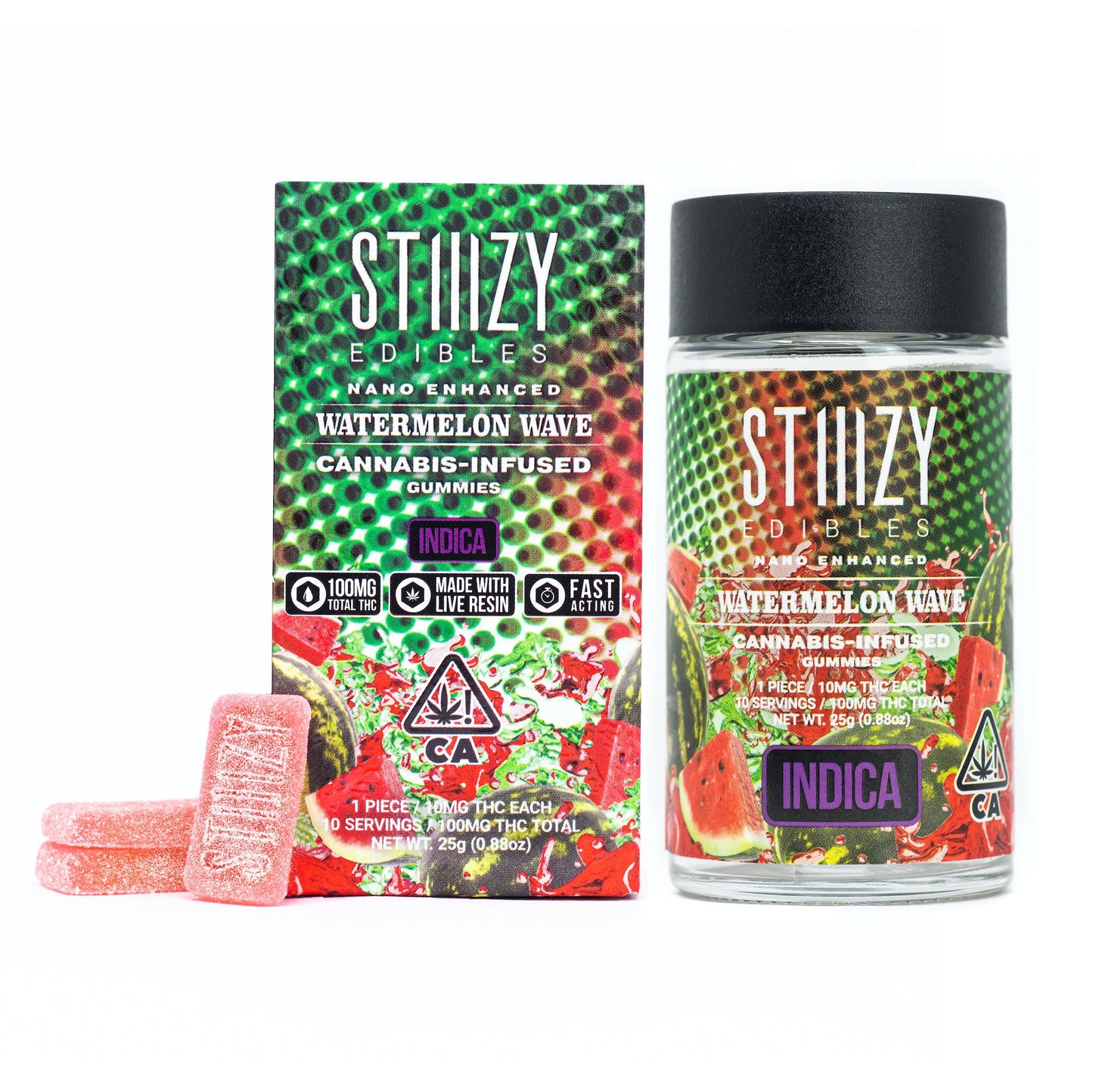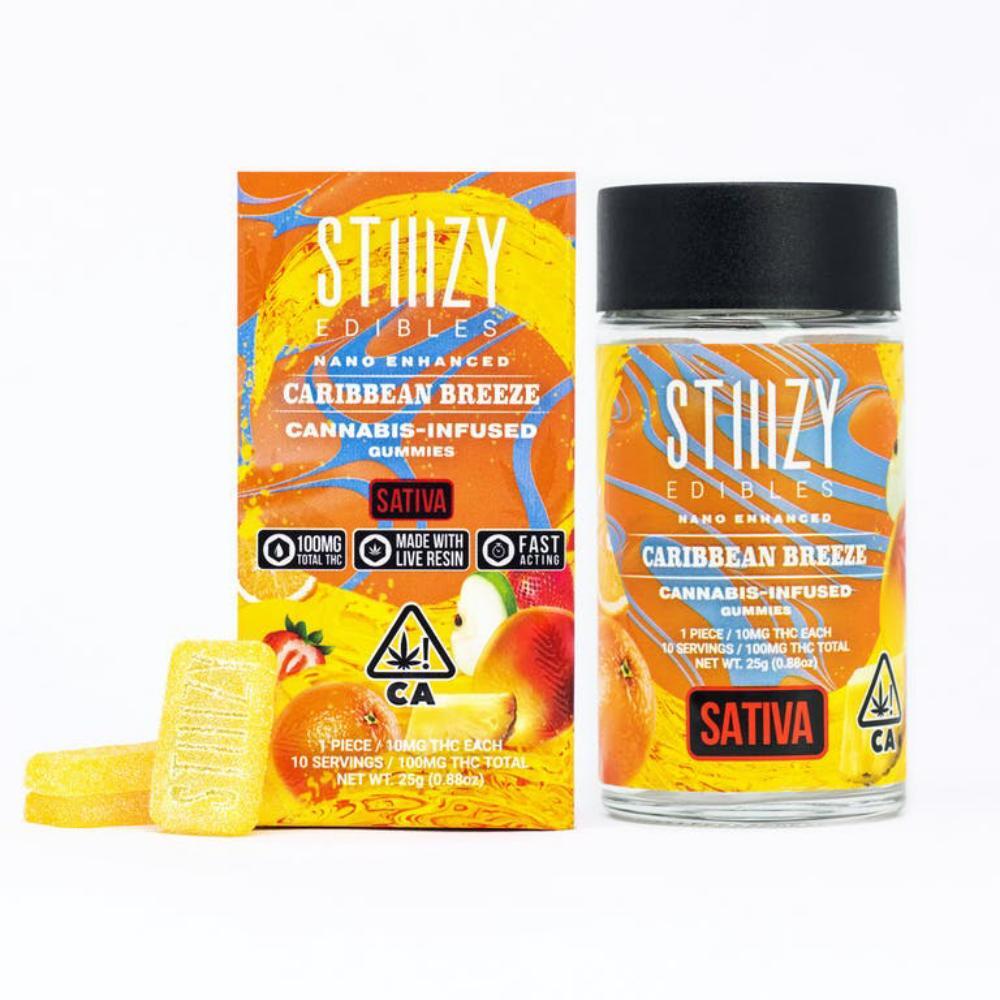 Faqs
Where can I buy Stiiizy edibles in San Diego?

You can purchase Stiiizy edibles in San Diego from Seaweed Delivery. We are a verified retailer, ensuring you receive genuine Stiiizy products every time.
Why are the prices for Stiiizy edibles at Seaweed Delivery slightly higher?

The prices at Seaweed Delivery include all taxes, providing a hassle-free shopping experience with no hidden costs.
What types of Stiiizy edibles does Seaweed Delivery carry?

Seaweed Delivery carries a variety of Stiiizy edibles including Blue Raspberry Blast (Indica), Caribbean Breeze (Sativa), Watermelon (Hybrid), and Sour Apple (Hybrid).
What is the THC content in Stiiizy edibles?

Each pack of Stiiizy edibles contains a total of 100mg of THC, divided into 10 pieces with 10mg of THC each. This allows for precise dosing.
How fast-acting are Stiiizy edibles from Seaweed Delivery?

Stiiizy edibles are known for their fast-acting nature. However, the exact onset time can vary depending on individual factors such as metabolism and tolerance.
Are Stiiizy edibles suitable for beginners?

Yes, Stiiizy edibles are ideal for beginners due to their precise dosing. Each piece contains 10mg of THC, allowing users to start with a smaller dose if needed.
Are the Stiiizy edibles sold in San Diego authentic?

Absolutely! At Seaweed Delivery, we only carry verified and licensed Stiiizy products.
Can I order Stiiizy edibles for delivery near me in San Diego?

Absolutely! You can order Stiiizy edibles from Seaweed Delivery for delivery anywhere in San Diego.
Are there any potential side effects of Stiiizy edibles?

As with all edibles, you may experience effects such as relaxation, euphoria, or altered sensory perception. Start with a small dose and wait for the effects to kick in before consuming more.
How can I store my Stiiizy edibles?

To maintain freshness, store your Stiiizy edibles in a cool, dry place out of direct sunlight.