Regular price
Sale price
$29.95
Unit price
per
Sale
Sold out
Seabedee CBD Gummies and Edibles: Elevate Your CBD Experience
Savor the perfect blend of taste and wellness with Seabedee's exclusive range of CBD-infused gummies and edibles, meticulously crafted for the discerning CBD enthusiast.
Sour Neon Gummy Bears: Dive into a tangy burst of flavor with Seabedee's Sour Neon Gummy Bears. Packed with 300mg of high-quality, isolate THC-free CBD, each gummy bear serves you a potent dose of 10mg. These treats promise not just a zesty kick to your taste buds but also ensure a calming experience, aiding in relaxation and sleep. With 30 bears in every container, you're set for a month of sweet tranquility.
Peach Rings: Indulge in the succulent taste of summer with Seabedee's Peach Rings. Each delicious ring comes loaded with 10mg of premium isolate THC-free CBD, offering a total of 100mg per pack. Beyond their luscious flavor, these peach rings are your ideal companion for those nights when you seek relaxation, or the perfect sleep aid. With 10 rings per pack, it's a delightful journey of taste and tranquility.
At Seabedee, quality is paramount. Our CBD gummies and edibles are not just about satisfying your sweet tooth. They represent a commitment to excellence, using only the finest ingredients and rigorous testing to ensure you get the best in every bite. Experience the harmonious blend of pleasure and wellness. Your journey to relaxation and great taste begins here.
View full details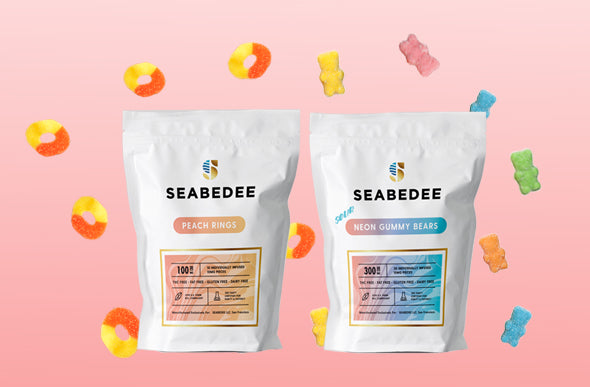 Faqs
What are CBD gummies and edibles?

CBD gummies and edibles are food items infused with CBD (cannabidiol) extracted from the hemp plant. They provide a delicious and convenient way to consume CBD.
Are CBD gummies legal in San Diego?

Yes, CBD products derived from hemp, including gummies and edibles, are legal in San Diego as long as they contain less than 0.3% THC. Our CBD gummies are 100% THC free!
What's the difference between CBD gummies and other CBD edibles?

While CBD gummies are chewy candies infused with CBD, CBD edibles can include a variety of food items like brownies, cookies, and more, all containing CBD.
Where can I buy CBD gummies in San Diego?

Many local dispensaries, health stores, and online platforms, like Seabedee, offer a range of CBD gummies and edibles available for purchase in San Diego.
How many CBD gummies should I take?

It's recommended to start with a small dose, like one gummy, and gradually increase if necessary. Always check the packaging for dosage recommendations and consult with a healthcare professional.
Are CBD edibles and gummies THC-free?

Many CBD gummies and edibles, like those from Seabedee, are made with isolate CBD and are THC-free. However, always check product labels to confirm.
Can I use CBD edibles for sleep or relaxation in San Diego?

Yes, many individuals in San Diego use CBD edibles, like gummies, to aid in relaxation and promote sleep.
Are there specific CBD edibles for different conditions in San Diego?

Brands like Seabedee offer condition-specific CBD products in San Diego, such as calming blends for anxiety or recovery blends for inflammation.
What flavors of CBD gummies are available in San Diego?

San Diego outlets offer a variety of flavors including sour neon, peach rings, and more, catering to diverse taste preferences.
How long do the effects of CBD edibles last?

The effects of CBD edibles can last anywhere from 4 to 6 hours, depending on the individual and the dosage.
Are there any side effects to consuming CBD gummies or edibles?

While CBD is generally considered safe, some individuals might experience side effects like dizziness, dry mouth, or changes in appetite. It's best to consult with a healthcare professional.
Do CBD edibles and gummies in San Diego contain other beneficial cannabinoids?

Some CBD products may contain other beneficial cannabinoids like CBN or CBG. Always check product labels for full ingredient lists.
Are the CBD gummies in San Diego vegan or gluten-free?

Many brands offer vegan or gluten-free options, but it's essential to check product details or consult with the supplier directly.
How are CBD gummies different from traditional gummies?

While traditional gummies are simply candy, CBD gummies are infused with CBD, providing potential therapeutic benefits in addition to their sweet taste.
Can I have CBD edibles delivered to my home in San Diego?

Yes, many suppliers, including Seabedee, offer delivery services for CBD gummies and edibles directly to your doorstep in San Diego.